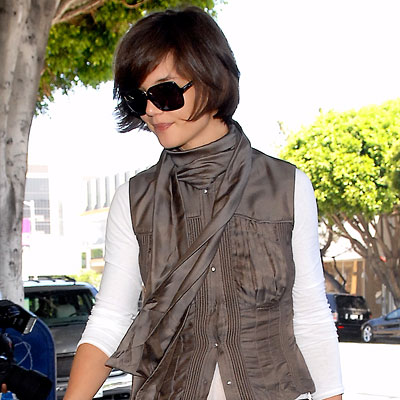 Okay. To say that I am sick of my hair would be an understate- ment. I have tried to talk myself into long hair for about 2 years now (my hair grows very slowly . . . but I know what you are thinking --and I have to say--my fingernails grow like no tomorrow. . .so I know that I am not unhealthy. uh-hmmm, DAD).
This--->
is the haircut that I want. Except not really. I want mine to be a teeny bit longer. Otherwise I look like two-ton Sarah Branine. My hair situation is on my last nerve--and probably Steve's too. I think he is getting tired of my indecisiveness! I
think
I like my long hair, until I see myself in pictures. Every picture reminds me that, although I
think
my hair looks nice, I really look like a 12 year old. with flat hair. It's time, in my book, for a short, sophisticated, fun, and fabulous cut! I've admired KH's new cut for a few months. . .but tomorrow might be the day that I actually go through with it. The appointment is almost booked. We'll see. My cowardliness might leave me with adolescent, flat hair......................